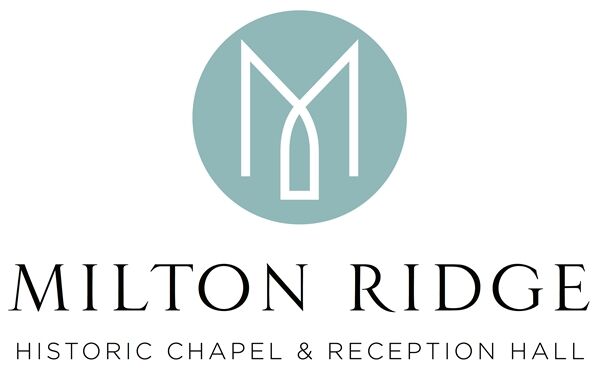 Milton Ridge is a unique all-inclusive wedding ceremony and reception location. Offering the perfect, intimate and elegant setting for weddings. Located in the rolling hills of Maryland between Frederick, MD and Washington, DC. The beautifully restored Chapel and newly built Reception Hall have been created exclusively for weddings with special attention given to details.
Milton Ridge is a full service single location venue. Our onsite caterers offer only the highest quality food and service.
Milton Ridge is unique. No-where else will you find a charming bridal cottage, a fully fitted groom suite, a historic (non-denominational) chapel and a large reception hall all coupled with beautiful gardens and a wonderful patio for cocktail parties and outdoor ceremonies.



We only host perfect weddings at Milton Ridge.
We want your planning process to be as stress free as possible! From when you first arrive to your final departure on your wedding day, you will enjoy every minute of your time with us.



Our experienced team will help you with all aspects of your wedding planning. As an option couples are welcome to take advantage of our in-house wedding team (Floral Designers, Photographers, DJ's and more) and ensure their wedding day runs absolutely perfectly.



We do tours 7 days a week at times that work for you.

Visit our website at www.miltonridge.com

And call any time : 240 257 2560



We can't wait to get to work on planning your wedding.
Read More
Words can't describe how wonderful Milton Ridge is!!! A beautifully simple and elegant chapel and reception site that could host any wedding theme! An all inclusive venue that was fairly priced within our budget , it was truly a dream come true! Tracy is an amazing wedding coordinator, taking care of such specific details that I didn't even realize would be so perfect! Beth the photographer couldn't have been more precise in getting the perfect pictures on our day. She was almost invisible I don't remember a lot of the beautiful shots that she got she was completely amazing! DJ fela was an incredible entertainer! He played amazing music and kept th party going til the last second! Pastor Lee was the most amazing fit to a beautiful and classy venue! The ceremony got many compliments from my family ! Hair and makeup by Jodie made me look like a professional model! Lol she was worth every penny!
Read More
Wonderful venue, food and the staff are awesome to work with. Everything went as planned!
Read More
I cannot THANK Milton Ridge enough for hosting and helping to create the most perfect day for my husband and I. Our wedding was nothing short of amazing. Not only is Milton ridge a beautiful venue and the perfect backdrop for any wedding/event but Meaghan & her team is great to work with from beginning to end. The food and the service was wonderful as well. All of our guests raved at how amazing the food tasted! Milton Ridge is your one stop shop! The bridal cottage and grooms loft is the perfect area to enjoy getting ready and the perfect backdrop for some amazing/fun pictures. But my favorite spot at Milton Ridge would be the chapel. It is absolutely beautiful. It is simple and quaint but so perfect for a intimate ceremony. It doesn't need much to dress it up and again is perfect for pictures. And finally to patio area and reception hall. The patio is perfect for the cocktail hour which luckily we had perfect weather for our July 14th wedding and our guests were able to mingle the beautiful grounds of Mitlon Ridge before being seated in the reception hall. Meaghan & her team hit a home run capturing my exact envision of how I wanted the hall to be set up. It looked stunning. From the up-lighting, to the table settings, from the amazing food set-up, to the photo booth. It was perfect!!! I highly recommend Milton Ridge for any or all events. You will not be sorry with the choice to go with them!
Read More
Wedding Catering Avg. Price Per Person
Catering Prices Include:
Catering Prices Include:
Bar Service Price Per Person
Bar Service Price Per Person
Starting from $19.00
Bar Service Price Includes:
Ceremony Site Fee
Peak Season
Starting from $1,250.00
Off-Peak Season
Starting from $950.00
Reception Site Fee
Peak Season
Starting from $1,850.00
Off-Peak Season
Starting from $1,850.00
Site Fees Include:
Rehearsal Dinner Site Fee
Peak Season
Starting from $950.00
Off-Peak Season
Starting from $950.00
Rehearsal Dinner Catering Avg. Price Per Person
Rehearsal Dinner Catering Prices Include:
Venue Highlights
Type
Ballroom, Banquet Hall, Historic
Style
Elegant, Modern, Rustic/Country
Setting
Covered Outdoor, Indoor, Uncovered Outdoor
Peak Season Months:
Off-Peak Season Months:
Maximum Capacity, Rehearsal Dinner
150
Guest Minimum, Rehearsal Dinner
30
Setting, Rehearsal Dinner
Covered Outdoor, Indoor, Uncovered Outdoor