Cupcakes by M.E.
· Wedding Cakes · Lewisberry, PA
Cupcakes by M.E. is an award winning custom cupcake bakery with years of experience baking award-winning cupcakes and...Read more the frostings they're topped with. We use only the freshest, high-quality ingredients so you can be sure you're indulging in something delicious. Eggs, flour, sugar, butter, canola...... (Wedding Cakes Lewisberry)
Psycho Cupcakes
· Wedding Cakes · Mechanicsburg, PA
Psycho Cupcakes is a home-based bakery that creates all their goods completely from scratch. Owner, baker, and cake...Read more artist, Nicole, specializes in delicious flavor combinations and beautiful cupcake and tiered cake displays. With 10 years of experience, you can be certain that your wedding cake...... (Wedding Cakes Mechanicsburg)
Exquisite Wedding Cakes
· Wedding Cakes · York, PA
Exquisite Wedding Cakes is a custom design wedding bakery. They offer buttercream, fondant and ganache wedding cakes. To...Read more discuss the designs and flavors of their wedding cakes, they offer couples free consultations along with complimentary wedding cake tasting samples. Aside from traditional wedding...... (Wedding Cakes York)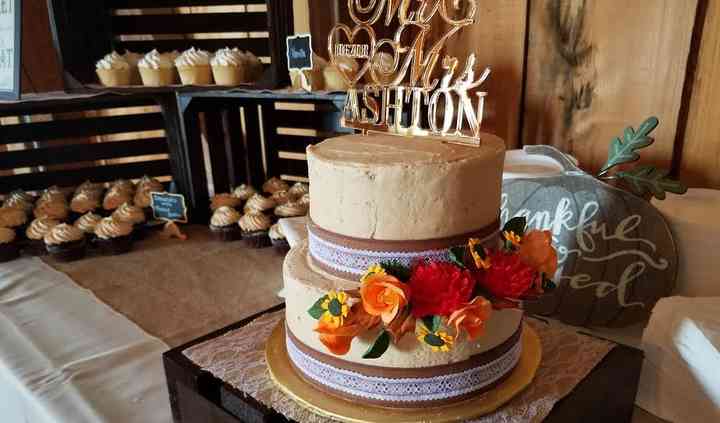 Sugar Dusted Bakers
· Wedding Cakes · Jonestown, PA
Sugar Dusted Bakers is a family-owned bakery in Jonestown, Pennsylvania, that aims to provide every couple with a piece...Read more of edible art their guests will never forget. Owner Beverly received her Bachelor of Science in Home Economics and taught cake decorating classes. Her mother, an art teacher, gave...... (Wedding Cakes Jonestown)
Lemoyne

1

Camp Hill

2

Mechanicsburg

1

Hummelstown

1

Harrisburg

3

York

6

Red Lion

1

New Oxford

1

Columbia

1

Hanover

1

Lebanon

2

Gettysburg

1

Millersville

1

Mount Joy

1

Jonestown

1
The wedding cake is often the focal point of a reception. Whether you're eyeing a classic cake decorated with fresh flowers or a more modern design, a professional wedding cake baker in Lewisberry can...Read more create a confection to suit your style. When booking a wedding cake baker, be sure to schedule a tasting so can you can pick your cake's flavors, as well as the design!
Search Beyond Wedding Cakes in Lancaster