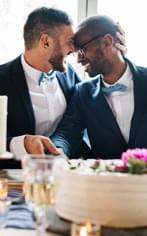 Keep all of your vendor info in one place
From finding to hiring, the WeddingWire Vendor Manager makes it easy to manage (and remember) all of your vendor details.
Contact professionals
Easily find and message vendors right from your WeddingWire account.
Don't rely on memory
Add notes and details about each vendor for later reference.
Make informed decisions
Compare vendors with pricing and reviews to help you decide.
Save your favorites
Quickly reference, contact, and hire your top-choice vendors.
WeddingWire became my go to for everything as I went from dreaming to realistic planning.
- Jessica, Colorado | Wedding 9/27/17
All my vendors are on WeddingWire, I liked clicking the "Hired" button to keep them all in one place...
- Kelsey, New Hampshire | Wedding 9/17/17
You can mark certain vendors as "Hired"...makes them easy to find when the times comes to review your vendors.
- Samantha, Delaware | Wedding 3/25/17
After you set your budget, it's time to start researching wedding vendors. From the venue and flowers, to catering and cake, there are a lot to keep track of. Our wedding Vendor Manager helps you stay organized, and keeps your stress levels down.
When you research wedding vendors on our site, it's easy to save your favorites — just click the heart icon next to the vendor's name. You'll be looking at photos and information from many different vendors, so our wedding Vendor Manager makes it easy to go back to the ones you love.
Our wedding Vendor Manager lets you quickly reference your top picks, and message them from anywhere. In line waiting for your morning coffee? Use the WeddingWire app to reach out to any of your vendors for the first time, or reply to a vendor you've already contacted.
It's important that your venue and wedding planner have contact info for the vendors participating in your big day. Easily email, print or export your wedding vendor list to anyone who needs it. You'll never have to scramble to pull the information together — everything will be in one spot!