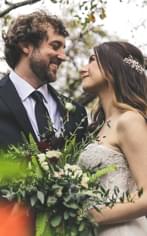 RSVPs, meal selections, plus ones and more
Seamlessly create your Guest List and manage details for all of your wedding events.
Add guests
Easily import from your contacts or add one by one.
Manage details
RSVPs. Dinner choices. Plus ones. Because each guest comes with lots of info.
Sort with one click
Manage multiple events and organize your guests by any category.
Collect RSVPs
Guests can easily RSVP online through your Wedding Website.
I would have been so much more stressed out without the guest list feature here.
- Meredith, Oregon | Wedding 9/19/15
I still look at my WeddingWire guest list on my phone for people's addresses and we got married 10 months ago.
- Heather, Texas | Wedding 6/23/16
The guest list is one of the best features, you can make lists for all the different parts of your wedding and people can RSVP to all of them online if you so choose...
- Julianna, Maine | Wedding 7/1/17
Creating your wedding guest list can be a daunting task, but our easy-to-use tool keeps everything in one spot. Start by adding all the wedding guests you'd like to attend, then build out the list from there with RSVP info, meal choices and more.
So, who made the cut? Once you add family and friends to the wedding guest list, you're ready to add more info, like addresses, RSVPs and gifts. Because each guest comes with a lot of info, it's important to keep everything organized. WeddingWire's wedding Guest List tool helps you do that, and it's a total sanity-saver. You can even sort your wedding guest list by category with one click.
When your wedding invites are ready to go, we make it easy to send addresses from your wedding guest list. Simply export them and email everything to your invitation provider, and check that task off your to-do list.